---
Brown Trout Heaven Nelson New Zealand Full Professional Service Since 1980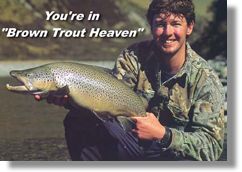 Guided Fly Fishing for Trophy Brown Trout on local and Wilderness rivers. Strategically located bases, roadtrips, overnight and multi-day campouts. Helicopter, boat and 4WD access.


Guiding services range over a wide area and we have a wide diversity of fishing locations to suit your preferences and ability.


Season runs 1st October thru 30th April. There is great fishing throughout this period. Let these guides help make your angling dreams come true.


Brown Trout Heaven
New Zealand's Premier Guide Co-operative
Peter Carty - Zane Mirfin - Graeme Marshall

Click here for online brochure ... browntroutheaven.co.nz



---
Doughboy Safaris
"Hunting has been a lifetime passion. . ."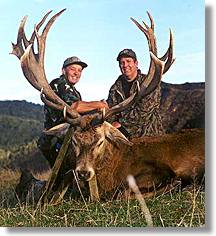 Operating out of Murchison professionally for over twelve years, Doughboy Safaris specialise in Red Stag hunts. Good numbers available, high chance of a trophy head for all hunters.

Hunting access to thousands of acres of private land and own ranch or in the Southern Alps (the mountain range which runs down the length of the South Island) to hunt all species - Fallow Buck, Wapiti/Elk, Tahr, Chamois etc.


Wild Boar hunted with dogs for exciting hunting!


Doughboy Safaris
Alex & Cheryl Monahan
30 Hampden Street, Murchison 7191, New Zealand
Telephone/Facsimile: +64 3 523 9249
e-mail: Alex@NZHunting.co.nz

Click here for online brochure ... nzhunting.co.nz



---
Tony Entwistle's Fly Fishing 20 years of large, hard-fighting trout...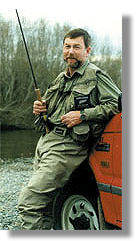 Tony started his first guiding company in Nelson back in 1980, when the region wasn't well known to international anglers. Now it is the favoured destination of many anglers who love wild places and wild fish.


He is one of New Zealand's most experienced guides, a Life Member and former President of the New Zealand Professional Fishing Guides Association, and was a member of the NZ Fly Fishing Team to various World Championships between 1987 to 1992.


These days Tony operates as an independent guide, focussing solely on the fishing opportunities that exist throughout the north of the South Island and providing anglers with a consistently high standard of guiding.

Tony Entwistle
5 Mason Place, Richmond, Nelson, New Zealand
Phone/Fax: +64 3 544 4565
e-mail: tony@tonyentwistlesflyfishing.co.nz

Click here for online brochure ... www.tonyentwistlesflyfishing.co.nz



---
Motueka River Lodge ...when only the best will do
Dear Mick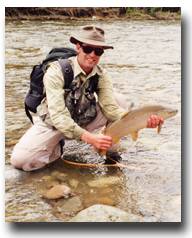 I am still revelling in our four-day stay at yours and Fiona's wonderful lodge.

RARELY, if ever, do fine fishing and excellent fare (accommodations and food) combine. In all my travels of the world to pursue the sport of angling, the Motueka River Lodge is number one – by far!

Many thanks for making it so.


Anson McCook Beard
Connecticut.



Motueka River Lodge
Motueka Valley Road
P.O. Box 238, Motueka, New Zealand.
Telephone: +64 3 526 8668
Facsimile: +64 3 526 8669
e-mail: enquiries@motuekalodge.co.nz

Click here for online brochure ... www.motuekalodge.co.nz


---